2023 Bookings are Full
To book for January 2024 please
email: jill@thelivestockinstitute.org
---
Meatworks featured on WCAI's Local Food Report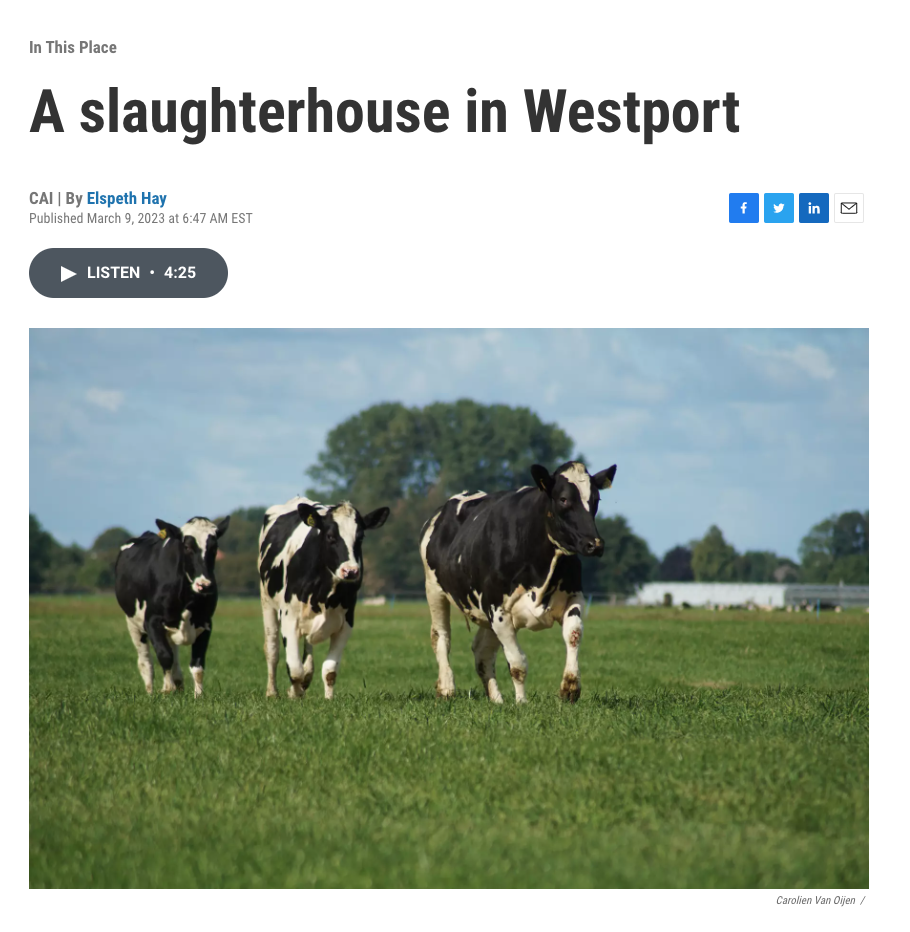 ---
"Clean, humane, knowledgeable, and very friendly and accommodating to our fast pace beef and pork business. More retail cuts to market at our farmstand. The packaging and labeling are very professional, makes meats even more marketable which means more clients and more profit. Thank you for everything."
– Ann Marie Bouthillette, Blackbird Farm, Smithfield, RI
"Working with individual farmers, the staff is totally engaged in high-quality customer service and humane treatment of the animals. They understand how important tracking animals through the facility is to ensure that every pound of my animal comes back with my farm name on it."
– Ben Coerper, Wild Harmony Farm, Exeter, RI
"I really appreciate this state-of-the-art facility and its accommodating staff. Trailering livestock has never been easier."
– Suze Craig, Case Mill Farm, Westport, MA
"We are happy with the humane way our animals are handled, and our meat is always cut and packaged nicely."
– Elizabeth Frary, Copicut Farms, Dartmouth, MA
"I've used six USDA-inspected facilities, and Meatworks tops them all with a state-of-the-art facility and tracking system, no stress animal handling, and people who care about my business and work with me to accommodate my needs."
– Carter Wilkie, Little Compton, RI
Meatworks is a new state-of-the art USDA-Inspected multi-species meat processing facility for cattle, hogs, sheep, and goats.
Offering services with:
• The highest animal welfare and humane handling standards
• The highest food safety standards
• Full traceability from drop off to pick-up via our integrated scale system
• Vacuum packaging
• Value-added services:
• Patties
• Fresh bulk sausages
• Fresh or smoked linked sausage
• Conventional or naturally cured bacon and ham
---
***ONSITE RETAIL STORE***
Featuring a selection of fresh locally raised beef, pork, and lamb.
Retail Store is open Mon-Fri 7am-5pm, Sat 8am-12pm (CLOSED SUNDAY)
Call 774-319-5616 or stop by to see what's in stock.
---
Meatworks is owned and operated by The Livestock Institute of Southern New England, a 501(c)(3) organization dedicated to addressing issues facing livestock farmers through educational programming and infrastructure improvements.
SIGNUP FOR THE TLI NEWSLETTER
This institution is an equal opportunity provider and employer.